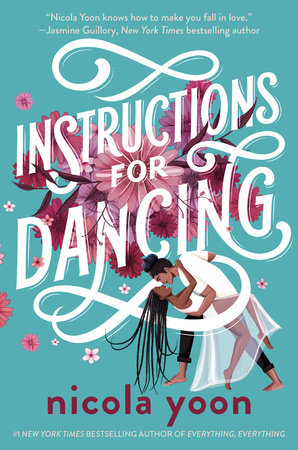 Pages: 304
Publisher: Penguin (Delacorte Press)
Release Date: June 3, 2021
Genre(s): Contemporary Romnace
Format: Hardcover
Goodreads Synopsis
"In this romantic page-turner from the author of Everything, Everything and The Sun is Also a Star, Evie has the power to see other people's romantic fates–what will happen when she finally sees her own?
Evie Thomas doesn't believe in love anymore. Especially after the strangest thing occurs one otherwise ordinary afternoon: She witnesses a couple kiss and is overcome with a vision of how their romance began . . . and how it will end. After all, even the greatest love stories end with a broken heart, eventually.
As Evie tries to understand why this is happening, she finds herself at La Brea Dance Studio, learning to waltz, fox-trot, and tango with a boy named X. X is everything that Evie is not: adventurous, passionate, daring. His philosophy is to say yes to everything–including entering a ballroom dance competition with a girl he's only just met.
Falling for X is definitely not what Evie had in mind. If her visions of heartbreak have taught her anything, it's that no one escapes love unscathed. But as she and X dance around and toward each other, Evie is forced to question all she thought she knew about life and love. In the end, is love worth the risk?"
What Did I Think?
Don't be fooled by the vibrant cover that gives off all kinds of happy vibes. Instructions for Dancing will tear your heart into tiny little pieces, glue it back together, and repeat this cycle a million times over before its end!
I picked up Instructions for Dancing because I was super intrigued by the whole "romantic psychic" part of the story, as well as the fact that I'm kind of obsessed with ballroom dancing (even though I've only taken one lesson in my entire life!). Usually it takes me a few chapters to become hooked on a story, but within the first two pages, I was completely entranced by Yoon's writing. The whole book was written in a pretty casual voice, but then there would be moments when I would be totally caught off guard when a beautifully poetic line would pop up that made me stop and think a little harder about what the story was trying to convey. Between the super interesting overall concept, stunning writing, and this book was an absolutely gem from the get-go!
I always love when the protagonist is a fellow book lover, so reading Instructions for Dancing from Evie's perspective made this tale that much sweeter, even though she could also be considered an anti-book lover when we first meet her. Evie's been through the wringer over the past year, and I think anyone who has ever been through what she has would totally understand why she is so against falling in love. Though her character continued to evolve as she figured out how much she wanted to risk herself, I appreciated the fact that her dry sense of humor and love that she has for her friends and family never left her, even when she didn't realize it. Overall, I thought Evie's character was very well developed and I found that I could relate to her more than I originally thought I'd be able to, which was a total plus!
I was absolutely obsessed with X, his whole family, and Fifi the dance instructor. They brought so much life and light to a story that has so much heartbreak thrown into it. They always kept is realer that real, and I think that was exactly what Evie needed in her life. Seeing some of these characters' lives play out in Evie's visions were some of my favorite moments of the entire book, even when we got glimpses well into the future that my heart was often not prepared for. You seriously can't help falling in love with the whole dance crew, so don't even try to resist it – it will be to no avail!
Instructions for Dancing was the book I never knew I needed to read. I thought it was going to be a standard, fluffy contemporary, but it was so much more than that. Yoon's writing was absolutely captivating, and through it I think all readers will learn so much about what is most important in life.
Who Would I Recommend This Book To?
I'd highly recommend Instructions for Dancing for anyone looking for an unconventional contemporary read with both heartbreaking and heartwarming moments that you may not even see coming. If you've read any of Nicola Yoon's previous books and thought those hit you in the feels, you ain't seen nothin' yet!
I'd also recommend this book to fans of Sarah Dessen, Mary H.K. Choi, and John Green.