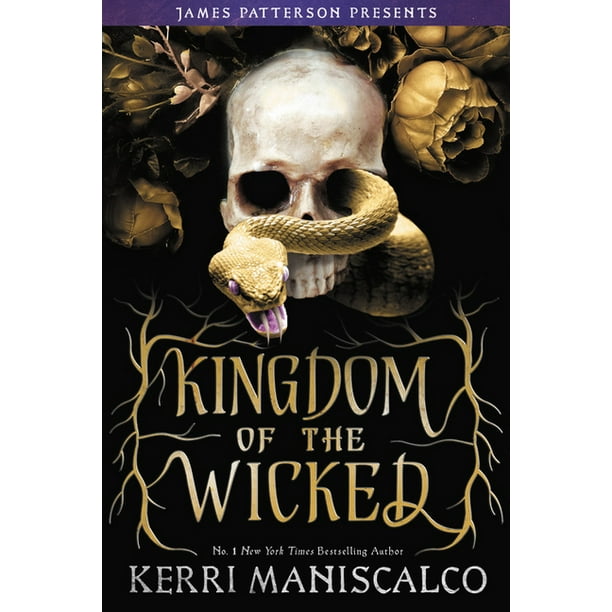 Pages: 372
Series: Kingdom of the Wicked #1
Publisher: JIMMY Patterson
Release Date: October 27, 2020
Genre(s): Fantasy with Romantic Elements
Format: Hardcover
Goodreads Synopsis
"Two sisters.
One brutal murder.
A quest for vengeance that will unleash Hell itself…
And an intoxicating romance.
Emilia and her twin sister Vittoria are streghe – witches who live secretly among humans, avoiding notice and persecution. One night, Vittoria misses dinner service at the family's renowned Sicilian restaurant. Emilia soon finds the body of her beloved twin…desecrated beyond belief. Devastated, Emilia sets out to find her sister's killer and to seek vengeance at any cost-even if it means using dark magic that's been long forbidden.
Then Emilia meets Wrath, one of the Wicked-princes of Hell she has been warned against in tales since she was a child. Wrath claims to be on Emilia's side, tasked by his master with solving the series of women's murders on the island. But when it comes to the Wicked, nothing is as it seems…"
…
What Did I Think?
I was on the hunt for a spooky book to read this fall, and boy oh boy did Kingdom of the Wicked deliver… in that regard, anyway! I went into reading this book knowing that there was a crap ton of talk about it, most of which were overwhelmingly positive reviews and people completely falling in love with it. I really really wanted to love everything about Kingdom of the Wicked, but I ended up feeling both overwhelmed and underwhelmed about it, which I was no expecting at all. If you're in the mood for a review filled with unpopular opinions, keep on reading for the tea, y'all!
Let's start with the plotline, pacing, overall concept, and worldbuilding, shall we? After reading the synopsis, I was completely OBSESSED with getting my hands on Kingdom of the Wicked. I don't typically go for books that are about uncovering the mysteries surrounding a murder, but I am 100 percent on board for anything witch, magic, and Seven Deadly Sins related, so the general concept of the book totally did (and still does!) make me want to fangirl all over again! I enjoyed the Italian setting and the fact that a good portion of the book focused on religious sites and in the di Carlo's family-owned restaurant, Sea & Vine. I am a total sucker for fantasy novels that take place in actual (or close to actual) locations, and it was so much fun to just sit back and absorb the culture/atmosphere of Italy for the first few chapters of the book. However, I personally felt like there was too much lead up to the action as a result of so many descriptions, which made the plot drag on for a long time – like for the first 180 pages, unfortunately. This is kind of where my being both overwhelmed and underwhelmed stems from, as the beginning was underwhelming but the end was SO GOOD it was overwhelming and made me want to keep reading the series.
Emilia di Carlo was one of those characters that I couldn't help but love and hate at the same time. One of my favorite things about her character is the love she has for her family and her willingness to literally go to the ends of the earth to keep them out of harm's way. I always felt warmth spark in my chest when reading the dialogue between her and her sister, mother, and grandmother, as I could feel their love for one another radiate right off the page. After Vittoria's murder, I could completely understand Emilia's bitterness as she battled through her grief, and I really appreciated that her emotion didn't just get swept under the rug after a couple of chapter. This made Emilia's character relatable and more authentic, even when her lack of ambition and sometimes, her inability to move forward became frustrating at times as I was reading. Though I can't say that Emilia is my favorite female lead of all time, I'm looking forward to seeing how she harnesses her grief and, more generally, how her character is shaped by what she has been through in Kingdom of the Wicked. She is one of those characters that you just know will evolve so much as a series goes on, so I can't wait to see her progression in the books to come.
You all know I've gotta yap about my new book boyfriend, Wrath, don't you? I saw this shirt once that said "morally gray all the way" on it, and after reflecting on some of my most recent fictional BF picks, I realized that I have a major thing for princes of Hell…. who, obviously, are all morally gray to the max….. eeeepppp! Wrath was no exception to this trend, and might just take the cake for the most loveable prince of Hell I've ever read about. Maniscalco did an amazing job of juxtaposing who people perceive Wrath to be with moments where he appears more human than his mortal counterparts. Like who would have thought a demon could actually be GOOD? I'll be honest with you all: my complete love and adoration for Wrath's character is one of the main reason I plan on finish this series, as twisty as it sounds. Even though I don't think we'll see Wrath develop too much in the next two books, I'm interested in seeing how his interactions with Emilia and relationships he forms play out! I'm also super excited to see more of him in Kingdom of the Cursed, as I didn't think he was around enough in Kingdom of the Wicked.
Kingdom of the Wicked is the perfect series to start if you're looking for a dark fantasy to put you in the fall/Halloween spirit. The fantasical element of sorcery and spooky murder mystery elements taking place in a place that feels so real to readers was both chilling and compelling – the reader was left wanting to know more, whether it be about their favorite character or what will go down plotwise in the next book. Though there were occasional plot inconsistencies and the fact that the pacing felt off-kilter at first, I'm really looking forward to diving into Kingdom of the Cursed, especially after we were left with such a cliffhanger!!!!
Who Would I Recommend This Book To?
If you are in the mood to read a darkly spooky fantasy with all kinds of morally gray characters that straddles the young adult and new adult line in content (the tiniest sprinkle of a slow burn, enemies-to-lovers romance with a lot of violence and bloodshed, oh my!), Kingdom of the Wicked might be for you!
I would also highly recommend fans of Jennifer L. Armentrout's From Blood and Ash series, Holly Black's Folk of the Air series, and Brigid Kemmerer's A Curse So Dark and Lonely series give Kingdom of the Wicked a read.